How We Built a Tea Garden in Our Front Yard
I have always preferred tea to coffee. When I was little, my great-grandmother told me that coffee would stunt my growth. Since I was awkwardly tall, this seemed to be solid advice and not the warning it was intended to be. My parents were both avid coffee drinkers, so I used to sneak black coffee on the weekends and choke it down. (Unfortunately, coffee couldn't overcome my towering gene pool.)
Tea, on the other hand, has always been a treat. My mother would make me tea with honey when I was sick, or sometimes on a cold winter morning to help me warm up. Earl Grey with lavender is my forever favorite.
As an adult, I've learned to appreciate the versatility of herbal teas. I'm somewhat sensitive to caffeine, so herbal teas are a great option late in the day, or to add a little something extra to my black tea. My girls have also developed a love for herbal teas. My eleven-year-old likes hot chamomile or peppermint teas, while my fifteen-year-old prefers iced mint green tea. Since both girls have been a little more adventurous with flavors recently, we decided to try our hand at growing our own herbs and flowers for herbal teas. Instead of just throwing a random raised bed in the yard, we wanted to make a tea garden that would double as a beautiful space to drink our tea.
What is a Tea Garden?
A tea garden is a very broad term for a garden that grows herbs and flowers that can be enjoyed fresh or dried for tea. This type of garden can be as simple as a large pot that contains a few varieties of tea plants, or a large yard that's been landscaped to tea garden perfection. The English and Japanese are the most famous for their lovely gardens.
English guidebooks refer to anything under ten acres as a garden. It should have some type of enclosure to clearly define the boundaries of a garden. This could be in the form of a hedge, trellis, wall, or any other structure. English gardens are also traditionally formal and contain elements of balanced control. Many different varieties of shrubs, flowers and herbs can be interplanted in such a garden.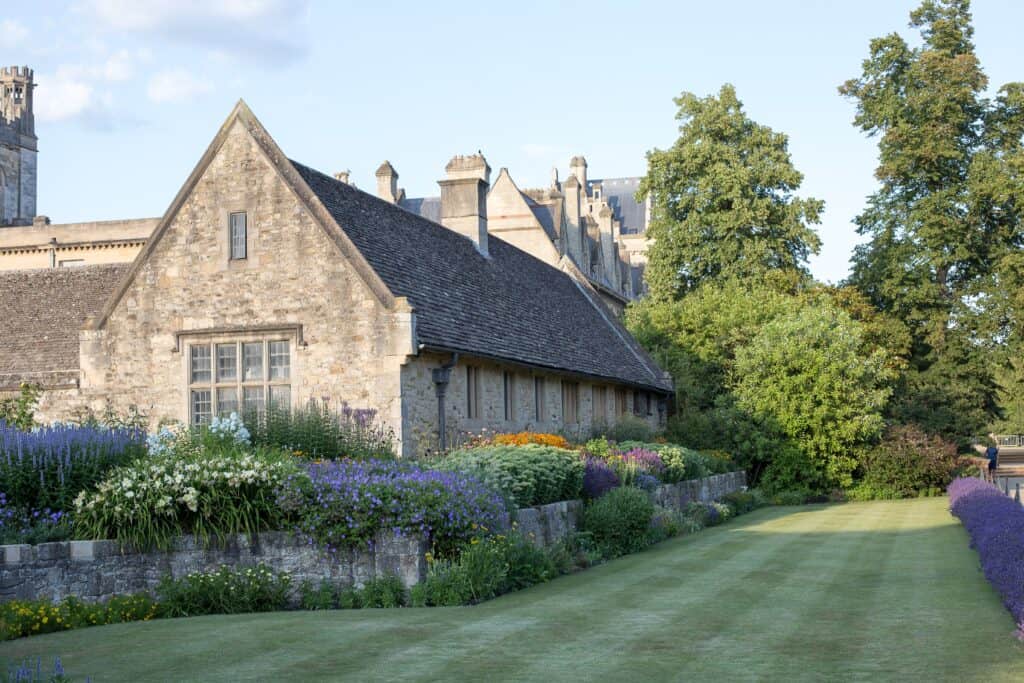 A Japanese tea garden's most significant contrast to an English garden is the use of symbolic architectural elements. These tea gardens are meant to be a retreat from everyday life. Every plant is very intentionally placed in order to create a zen experience for the garden's visitors.
Planning Our Tea Garden
The first thing the girls and I did was to sit down and figure out what our top priorities were.
I found an inexpensive mismatched outdoor table and chairs on Facebook Marketplace to be the center of the tea garden. We decided on a circular raised bed with a grassy center. Then we chose a spot in the front yard between the house and a large maple tree that casts some shade on that area for a couple of hours each afternoon in the summer.
What are the Best Plants for a Tea Garden?
How We Built Our Tea Garden
Our table is round and has a hole in the middle for an umbrella. First I placed the table in the center where we wanted our circle. Then I cut a piece of string long enough to provide the radius of the inner circle. I attached one side of the string to the table, and the other side to a can of spray paint. The string made it easy to spray a line of paint evenly all the way around the table. Finally I let the string out a little to provide a larger radius for the outside circle and sprayed that circle too. I was left with two large circles, one inside the other.
I used a flat-edged shovel to dig a small trench on both the inside and outside of the circles to create a clearly defined border. My eleven-year-old picked up the residual sod and put it into a landscaping bag for disposal. Then we placed cardboard on the inside of the circles where our garden would be. We decided to build just over half of the circle to start with. We may complete it at some point, but first I want to see how many dried flowers and herbs we can grow in the space we have.
Finally we placed landscaping bricks and stones from our creek around the border and filled in the center with topsoil. When we started this project, it was early spring and we still had frost in the bluegrass. We had to wait a couple of weeks to plant the new garden. This is what it looked like the day we built our tea garden.
The Final Product
By the beginning of May we were finally able to plant our perennials and put seeds in the ground. I chose two kinds of roses for each end of the garden, Russian sage, English lavender, yarrow, and some broad leaf sage I pulled out of my garden that got a little too prolific. We also added some solar garden lights for a little sparkle. The seeds are finally starting to sprout, and I can't wait to see how the garden looks when it is full of plants later this summer.
For more gardening ideas, please see my posts here and here.