Quick and Easy Designer Pottery Dupe
If you guys hang out on decor pages on Instagram, TikTok and Facebook as much as I do, I'm sure you've seen those gorgeous nubby textured pots from Anthro. You know the ones I'm talking about. The ones that look like they've been hand crafted out of linen and clay by Aphrodite herself. The ones that are frequently backordered for months. The ones that have a hefty price tag.
Look, I'm not opposed to spending a little bit extra on something I REALLY love, but we have eight people in our house. I'd be constantly worried about my kids or dogs (or husband) knocking said pot over and destroying my investment, so that's a hard pass for me.
Enter my ridiculously easy plan B. Want to see what I did with a couple of Hobby Lobby pots and a can of spray paint on a sunny afternoon?
Aren't they lovely? If you can hold down the nozzle on a can of spray paint, you can do this.
Here is how you can make your own textured pottery:
Gather your materials:
-A nubby pot of your choice, in any material you want. I used this type from Hobby Lobby. Bonus points if you're lucky enough to catch them 40% off like I did!
https://www.hobbylobby.com/Home-Decor-Frames/Decor-Pillows/Jars-Vases/Green-Textured-Terracotta-Vase—Small/p/81062759
Here is what they looked like when I found them: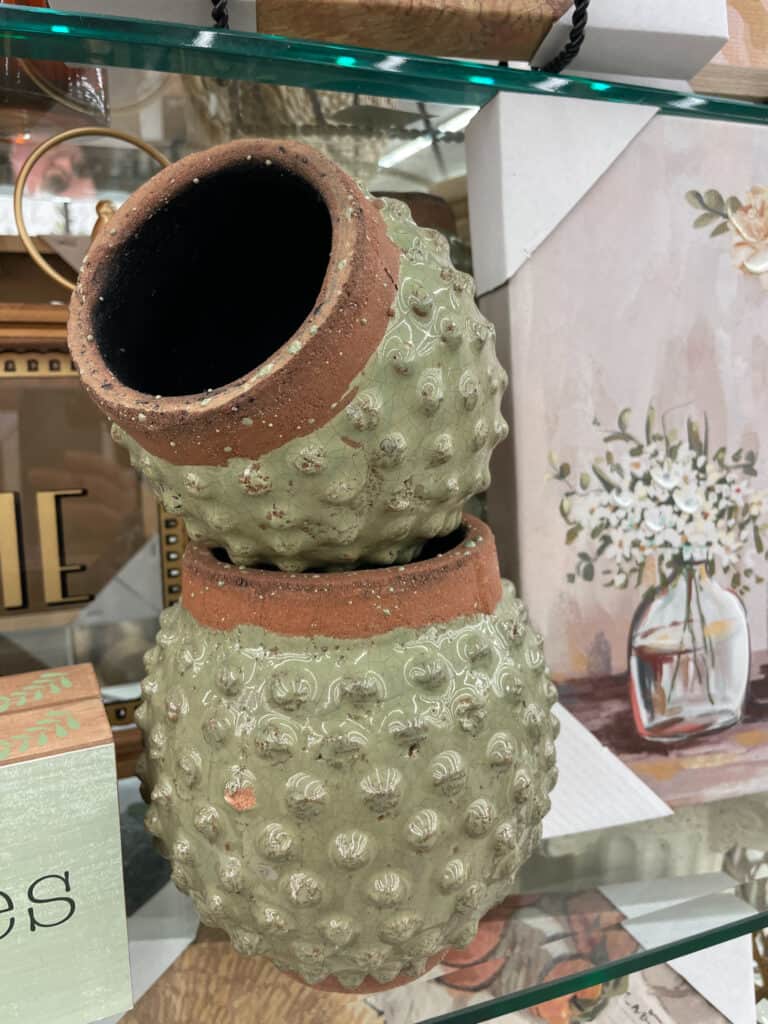 . This paint is fantastic. It adds color and texture in one easy step! You can find it here: https://amzn.to/3JQIlog
Step 1: Place your pot in a safe space to paint. I used an old box to set mine on in the yard. Shake your can and apply a VERY thin, even coat of paint. Allow your paint to dry thoroughly. Here is a tip: the instructions on the can say to allow the paint to dry for at least 15 minutes before applying a new coat. That is false. You will need to let dry for at least an hour between coats. Your patience will be rewarded, I promise.
Step 2: Repeat until you can no longer see the previous pot color and you are satisfied with the texture. Each coat of this type of paint adds more texture. I added 5 coats to get the opacity and texture you see in the finished picture.
The finished product
That's it! These pots were super easy. Both of them plus the paint cost less than $30. A pot like this would make an amazing gift because it goes with any decor. A live plant, cut flowers or some faux stems would look great. I added some cuttings from my Monstera plant to mine. The spray paint I used is ideal for indoor or outdoor, so you might use yours on a porch or patio to decorate for spring.
Here are some alternative uses for these beautiful pots:
Use a larger pot to hold cooking utensils next to your stove.
Use a smaller pot to hold toothbrushes next to a bathroom sink.
A small pot on a buffet is a stylish way to contain silverware for guests.
Several smaller pots on a kitchen windowsill would be a beautiful place to grow fresh herbs.
Fill any sized pot with water to hold fresh cut herbs from the garden until ready to use.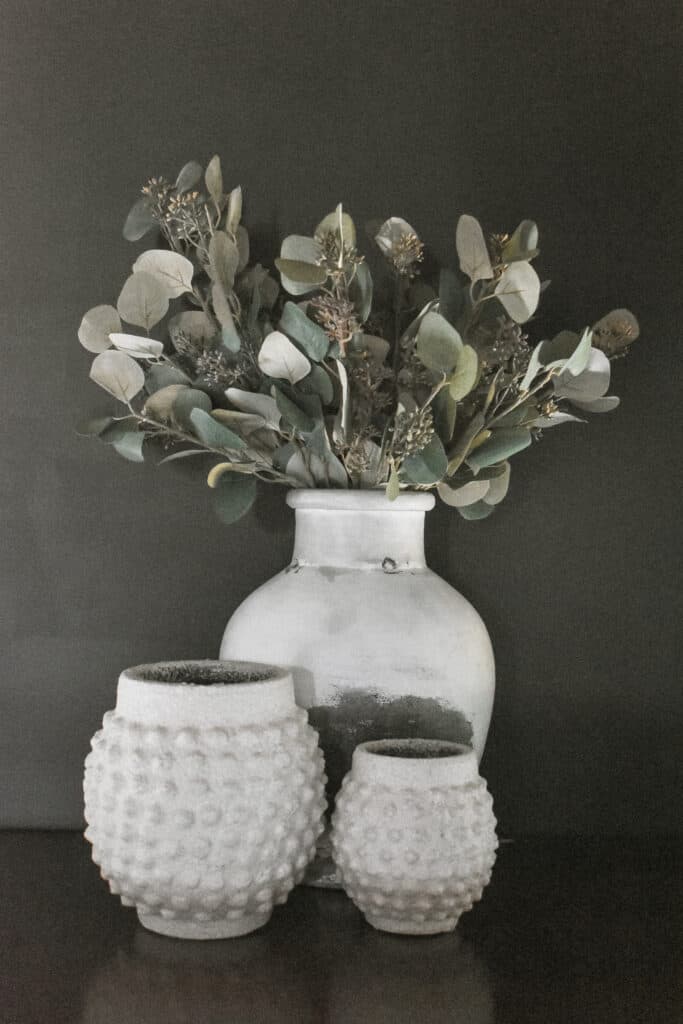 This craft was so easy and is perfect for any skill level. I'd enjoy seeing your comments below telling me how you would use your DIY designer dupe pots!
Blessings from the bluegrass,
Luci