All Black Living Room Reveal
Friends, you will soon realize that black is my favorite color. I wear black almost all the time because it goes with EVERYTHING. It goes with other black colors. It pairs well with neutrals like white, gray and beige. Black looks amazing with wood. A pop of bright color looks fantastic with black. Why wouldn't I want to paint my entire living room black?
Here's what my living room looked like when I moved into my house almost four years ago: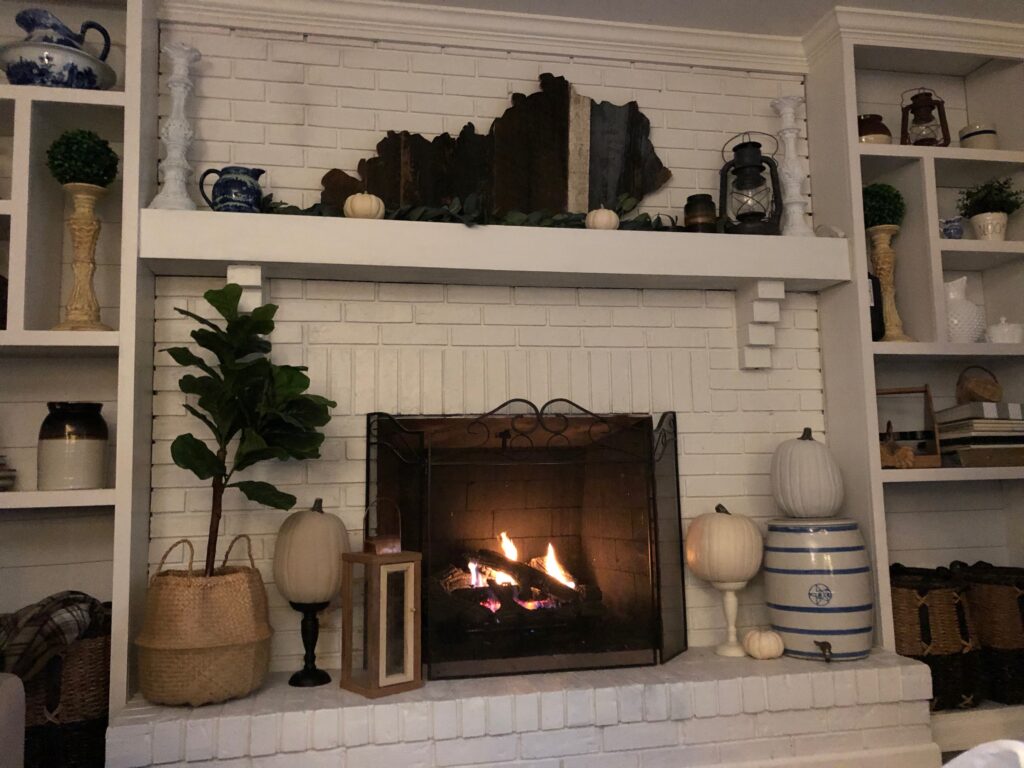 It was fine. It was very white, and paired well with the beige walls. But it was a little bit bland, stark, and just wasn't me. The previous owner even painted the beautiful solid wood mantle. I knew that I wanted a very different look for this room. I wanted to take the stark pale walls and fireplace and transform it into a cozy space for my family to gather. And now?
This room is the comfortable yet elegant living space of my dreams. I absolutely love the mix of black paint, wood and plants in this room. I love the vibe this room has, and even the light looks different now!
Which black paint colors are best for interior rooms?
Taking the living room from light to dark was really a gradual process. Two years ago, I decided I couldn't live with the bright white paint on the fireplace that came with the house. The first thing I did was to strip the mantle using Citristrip. The wood looks so much better than when it was painted. I chose Sherwin Williams Tricorn Black for the fireplace. I painted the brick with flat paint and the built-ins with semi-gloss. This provided a nice contrast in sheen to differentiate the brick from the wood, and the glossier finish on the bookshelves makes dusting easy.
The walls and ceiling came next. Was I scared to paint EVERYTHING black? Of course not. It's just paint! Paint is not an expensive product and if you don't love it afterward, you can always repaint.
We chose to paint the walls and ceiling Sherwin Williams Iron Ore in flat finish, and the crown molding, baseboards and trim the same color with a satin sheen. I love the beautiful velvet finish of flat paint on walls, but using a higher sheen on the trim provides a nice contrast and makes for easy dusting.
Is flat interior paint hard to maintain?
Flat paint is not difficult at all to maintain. I strongly believe that when it comes to paint, you get what you pay for. Choose a high quality paint with primer, and always use at least 2 coats. This will allow you to clean the walls as needed without rubbing through the paint. A bonus for choosing black paint on the walls is that you can't see fingerprints and scuffs as you do with lighter paint colors. We have eight people who live in this house, plus two dogs. We have learned that the new darker paint is extremely forgiving.
What decor pairs well with black walls?
Literally everything pairs well with black walls. Black is a gorgeous dark neutral, and you can decorate to complement black walls the same way you would with white or gray walls. I love the way the green in my houseplants pops against my dark walls. Wood and wicker touches like the bamboo shades, wicker and seagrass baskets, and even the mantle look amazing against the black paint. The white and ivory ironstone pops against the black on the built-ins. I love using a variety of textures and materials when decorating for a cozy vibe. If you look closely at my plants, I like the mix of metal, terracotta and pottery when decorating with living greenery. Terracotta is a gorgeous warm, earthy color and I incorporate the color using pots in various sizes and a terracotta throw on the sectional. Even black pots and black decorating elements look work well with the all-black aesthetic.
Why did I paint my ceiling and trim black?
As you can see, every surface in the room has been painted black, except the floor. The ceiling was painted the same velvety flat finish as the walls. The baseboards, crown molding and trim was painted the same color with a satin finish. When deciding how far to go with the black paint, the main deciding factor was contrast. If I had left the trim white but painted the ceiling black, it would have created a noticeable contrasting trim around the room. If I had kept the ceiling white but painted the walls and trim black, there would have been a large white block over the room– not a bad look, but not exactly what I was looking for. My decision to carry the dark colors throughout the room created a cohesive look with no visual distractions. The living room feels like a cozy cocoon and there is nothing to pull your eye to one place or another.
Does black paint make the room feel smaller?
Floor to ceiling black paint absolutely does not make the living room feel smaller. There is a common misconception that dark colors make a room feel small. What actually makes a room feel smaller is contrast. Since there is no visual contrast in the room, it feels the same size as it was before. Of course the room is darker now, but it is not as dark as you would think. The only window in the living room faces east, and the light that comes in during the day looks even more lovely than it did prior to painting.
My family absolutely loves the new darker vibe for the space. Eventually we would like to add a leather sofa in this room, and maybe some comfortable Eames-style chairs to flank the fireplace. I can't wait to show you how this room evolves.
For a complementary DIY, please see my post here.
If you would like to know any of the sources for the living room decor, you can find them all here:
Bamboo blinds https://amzn.to/3xfOFTE
Swiss cross stoneware planter: https://amzn.to/38HmOSj
Wall-mounted iron plant hangers and pots: https://amzn.to/3E1hTa8
Macrame plant hangers: https://amzn.to/3uqgoiD
Blessings from the bluegrass,
Luci
Some of the links on this blog may be affiliate links, which means I may earn a small commission if you make a purchase through those links. This comes at no extra cost to you and helps support the content creation on this blog.