9 Houseplants to Cure a Black Thumb
Today I'll be sharing 9 houseplants to cure a black thumb. But first, a little backstory:
I used to be the worst when it came to keeping plants alive. The worst. My family sent me memes about killing houseplants (they think they're funny that way), and my daughter wouldn't even let me touch her Mother's Day gift for me one year– a nasturtium in a decorated cup–lest I pass on my plant-killing juju. My black thumb was notorious. My sister and I went shopping, and frequently I would gaze longingly at the lovely houseplants. She told me, "those aren't for you, Luc."
One day I burned my hand on the stove while making dinner and brought an aloe plant home from the store to help me heal. I assumed that it would just die like every other plant had, but one year later, I realized that it was not only alive, but actually thriving! I began to wonder if I could keep other plants alive too.
As it happens with most houseplant enthusiasts, one plant quickly becomes five, and then becomes twenty. Before I knew it, my kids were making snide comments about the house looking like a jungle, and I had run out of available windows to house my new plants. I think that I have somewhere around fifty houseplants now, and it makes me so proud see them grow and put out new leaves. So what changed?
How I Overcame My Black Thumb
To be fair, I didn't murder THAT many plants. The first step on my way to the plant killer reputation was a cactus garden that my daughter and I planted. It was in a container with no drainage and it got stuck out in the rain. The cactus got waterlogged and exploded. Sigh. The second one was a fiddle leaf fig that my sister gifted me. That is an expert-level plant, not a beginner plant. It didn't get enough light and likely not enough water and died because I didn't have the understanding for how to care for it.
The thing I did differently the next time around was that I simply gained knowledge. I researched each plant BEFORE I bought it to find out what kind of light it needs, how much water to give it, and when to repot. That's it! Such a simple thing made a huge difference. Here are my recommendations for top nine beginner houseplants to help you cure your black thumb! All of these make amazing gifts because anyone can care for them.
#9- ZZ Plant
The ZZ Plant (Zamioculas zamiifolia) is a leafy green plant with slightly waxy leaves. Some varieties of this plant are even available with black leaves, putting it at the top of my current plant wish list. This plant has a rhizome, which is a giant bulb that looks like a potato under the soil. The ZZ is super easy to care for as it can live in low-light conditions, and only needs to be watered every couple of weeks. Be sure to plant in a pot with good drainage.
#8- Air Plants
I ordered my air plants online. You can find them here. Air plants are amazing because they don't require soil to live. They are incredibly low maintenance because they cannot be deliberately propagated, don't need to be potted, and only need to be watered about once a week. Simply place them into a container of water for a few minutes, turn them upside down to dry, and they're good to go until the next week. Amazing, right? They can live on a window sill, shelf or in a terrarium very easily. These plants are very happy with moderate indirect sunlight. I keep my air plants hanging on a wooden grid in my kitchen window, which you can find here. This week one of mine bloomed for the first time.
One morning I woke up and found that she had turned from sage green to red, and two days later a purple bloom had sprouted from the inside of her. Air plants produce 1-3 pups (baby air plants) after they bloom, so I'm hoping to see some new babies soon!
#7- Jade Plant
My sister gifted me with this jade plant. It wasn't my first, but it's my favorite. In the summer, it lives on my porch. In the winter, it lives in the dining room in a west-facing window on top of an antique step stool.
Jade plants are gorgeous and very easy to grow. They have thick waxy leaves that fall off sometimes, and turn into new jade plants. To propagate, just break off a leaf and set it on a window sill until a new plant grows from it. Then place it on top of some soil and watch it take off. You can also clip off a branch and plant directly into soil.
Jade plants are succulents and require bright, indirect light and very little water. I only water every other week, and since this lovely lady lives in an old galvanized bucket with no drainage, I'm very careful to only lightly water and always pour off any extra.
#6- Yucca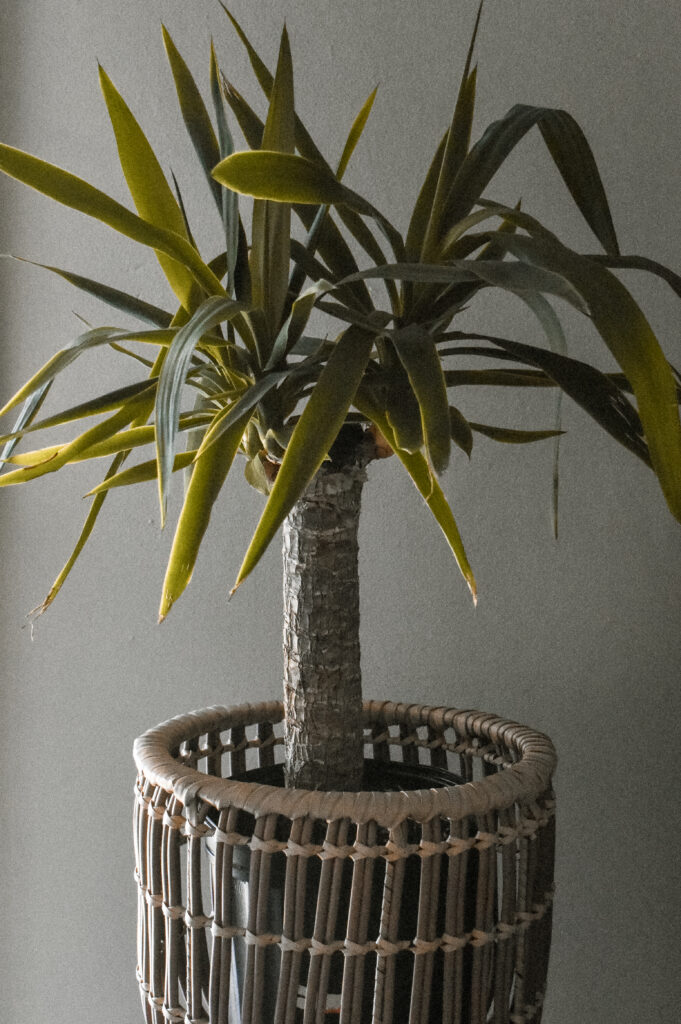 This yucca was one of the first plants I decided to try to keep alive, and it has not disappointed. It lives in my stepdaughter's bedroom near a west-facing window. It's so fun because it looks like a palm tree! We don't have palm trees in Kentucky, so it's definitely a novelty. This yucca is very sturdy, so if it gets tipped over occasionally by a kid or pet, the leaves don't easily break and the trunk is thick enough to support the plant. I water mine only once every two to three weeks. It still lives in the nursery pot it came in, so I stick the entire thing in the sink or bathtub, douse with water, and let it drain.
#5- Snake Plant
There is a reason every office building in the country is full of snake plants. These plants are easy to care for and thrive on neglect. They only need to be watered a couple of times a month and can tolerate low-light conditions. They come in a ton of different shapes and colors. This particular plant looks similar to a pineapple, but some varieties grow longer or wider leaves. I have a pair of these hanging on the wall on each side of the TV in the living room, which you can see here. To propagate, simply cut a leaf off and place it in water. Change the water every other day until roots grow, then plant in soil. That's it! You can see why the snake plant is a crowd pleaser.
#4- Elephant Bush
The elephant bush, also referred to as the rainbow bush, is native to Africa. It is a shrub-style succulent similar to the jade plant, and gets its name because it is a favorite of elephants. I received this plant as part of a succulent subscription, and I absolutely love its variegated leaves and tiny size. This plant lived on my window sill in the kitchen for several months until I moved it to the bedroom where it now receives more light in a south-facing window. Bright, indirect light is best for this plant, and only water when the soil is dry. Propagate by placing a cutting in water or directly into soil.
#3- Pothos
I could write an entire post on just my pothos plants. These vining beauties are an easy way to add drama to any room. They are extremely adaptable and can live happily near a window in moderate light, or on a bookshelf or countertop in low light. Pothos vines can grow infinitely long when allowed to trail, or can be staked to stand upright for a different look. There are many varieties of pathos that range in color from bright chartreuse to dark emerald. You can also find plants with variegated leaves for more visual texture.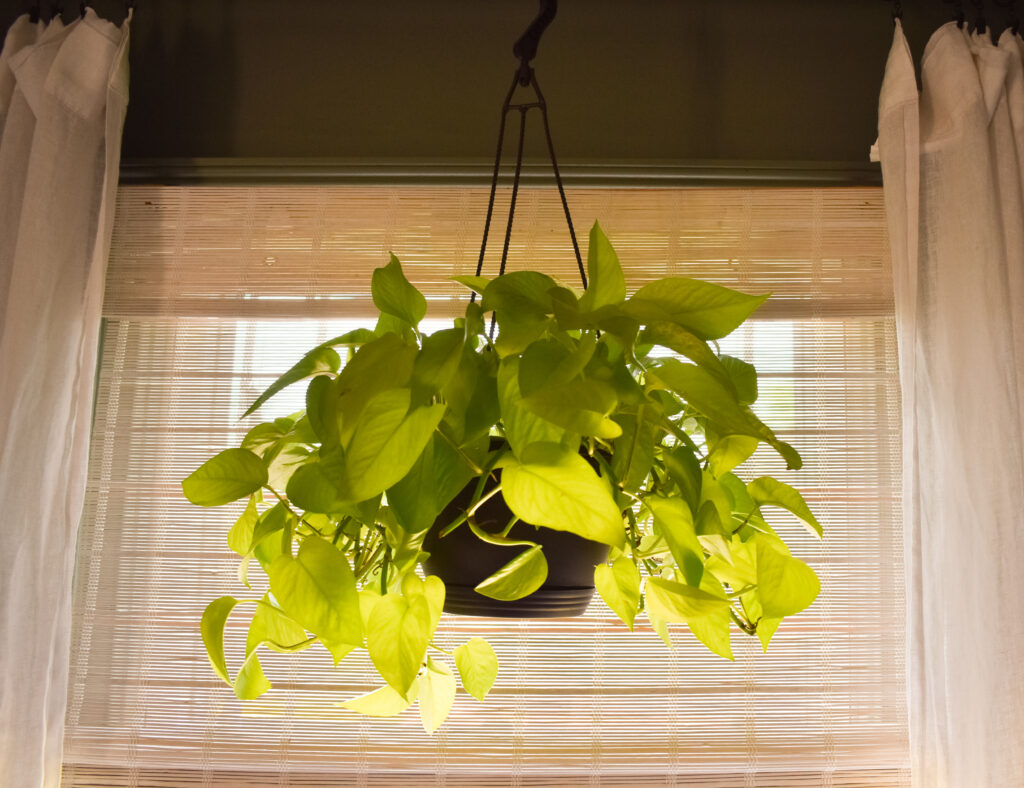 This bright beauty lives in a window in our bedroom. I love her color best in the morning when the sun hits her. Pothos have made my top nine because of how easy they are to care for. I water about once a week whenever the top two inches of soil is dry. When my pothos get too dry, they start to droop to let me know they need water. I love a plant that clearly communicates with me! To propagate, clip a vine between leaves, remove the bottom 2 leaves, and place in water until roots form. Be sure to change the water every other day!
#2- Ficus tineke
The Ficus tineke is one of my newest favorites. This plant is beautiful to look at because each leaf has multiple colors of green and white and contains a beautiful design. This particular plant lives in my office in an east-facing window. I expect her to get quite large and will need to become a floor plant at some point. Care is quite easy. Your Ficus tineke will need a pot with drainage, well draining soil, and water only when the first two inches of soil is dry. That's it! I cannot wait until this plant get large enough to become a statement in this room.
#1- Haworthia
The Haworthia, or lace aloe, is a beautiful sawtoothed succulent that is native to Africa. I absolutely love the rosette shape of this plant. I purchased this plant when it was tiny, and it has grown quickly.
When these plants are ready to reproduce, they grow "pups," which are just tiny versions of themselves. Can you see the pups growing on this plant? They are low and stick out of the base of the plant. A Haworthia plant will only gift you with pups when it is happy, so it must like the east-facing window it lives in. When the pups are a little bigger I will pull the entire plant out of the soil it lives in, separate the pups from the adult plant with a clean knife, and plant them in separate small pots so that they can spread their own roots. These plants need soil with good drainage (I use cactus soil) and water every other week when the soil is dry. This would be a great plant for someone who travels frequently because it thrives on neglect!
Quick Tips for Keeping Plants Alive
This is another topic I could write an entire post on, but I will summarize some things I have learned that have helped me overcome my black thumb.
Always use pots with drainage. I love the aesthetic of terracotta and frequently use standard terracotta pots with saucers underneath. Terracotta lets soil and roots breathe and the drainage holes keep water from building up in the soil. Excess water can rot your plant from the roots up.
Never EVER water damp or wet soil. I always stick my finger into my soil before I water past the first knuckle. If the soil feels damp, I wait to water.
When watering, I carry my plants into the sink or bathtub and water thoroughly. Let the water soak into the soil, then water again five minutes later. Let all of the excess water drain out of the pots before putting them back. Take this opportunity to clean your leaves also.
Every plant has specific light requirements. Make sure you can meet its needs BEFORE you buy it! I have very little natural light in my house, so that means that each plant needs to be near a window. Research the plant you want to buy to figure out optimum placement. Keep leaves dusted so that it can absorb light properly. To figure out what type of light a room has to offer, click here.
I hope this post was helpful. I would love if you would comment below to let me know which plant you want to try!
Blessings from the bluegrass,
Luci